Recently I was blessed to be accepted as one of forty educators from a pool of over 500 applicants to attend the Picademy (Austin, TX 2016 cohort) sponsored by the Raspberry Pi Foundation. What is Picademy? Allow me to explain.
Raspberry Pi is a computer. But it isn't an ordinary computer. It's one of the least expensive computers you can purchase. That's right. You too can own a computer that is available on the market for $35. However, like most things that seem too good to be true, this one ALSO has a catch… you have to BUILD it. Raspberry Pi is a computer, but it is one of the most flexible computers available to educators and students alike. The end game is to promote digital making and creating.
In order to learn how to program this computer (that really looks like an oversized microchip), I attended #Picademy. This two day, intensive training experience allowed me to develop skills and create a project.
When I began this experience, I had very little knowledge of Raspberry Pi, however I had been assured by the colleague who recommended that I apply that prior knowledge of the system was not necessary… and it wasn't. I have attended some fabulous and fantastic professional development and I have attended more than one professional development session in which I seriously reconsidered my decision to join the educational ranks, however the Picademy staff were incredibly understanding, accommodating, and knowledgeable.
One of the first things that one of our staffers stated, and most reiterated throughout the experience, was that failing is to be embraced. Failure, I was assured, would be a part of my Picademy experience, and it certainly was, but I was encouraged to accept failure and to embrace it, to learn from it, and to remember that F.A.I.L. simply means "First Attempt In Learning" and it has no negative connotation.
I was exposed, at what felt like light speed, on the first day to a variety of operations and applications for the Raspberry Pi. I was told that I should not worry about learning how to write code, but to focus on the attempts – and there were more than a few. I know I missed information that day because I was trying SO hard to get the first steps down, and I did… eventually… with help
At the end of the first day, attendees are reminded that the following day will be a project day. All attendees were encouraged to generate and brainstorm potential projects. No one would be held to any idea that was generated, but it was merely an exercise to get our creative juices flowing. Because I felt like more research was necessary, I had dinner with some of my fellow attendees and then I headed back to my hotel to hit some of my favorite search tools for ideas – Google and Pinterest.
Based on that, I got an idea that I'd like to create an audio book system utilizing my Raspberry Pi. I wanted it to use buttons – an area which I had struggled with (mostly hardware issues) the day before – but I saw something that I could show my teachers as a way to use these apparatus in their classrooms. I enlisted the help of another attendee and together, we two who both lacked a working knowledge of Python, the programming language that can be used for Raspberry Pi, dove in and created a working audio book system in four hours.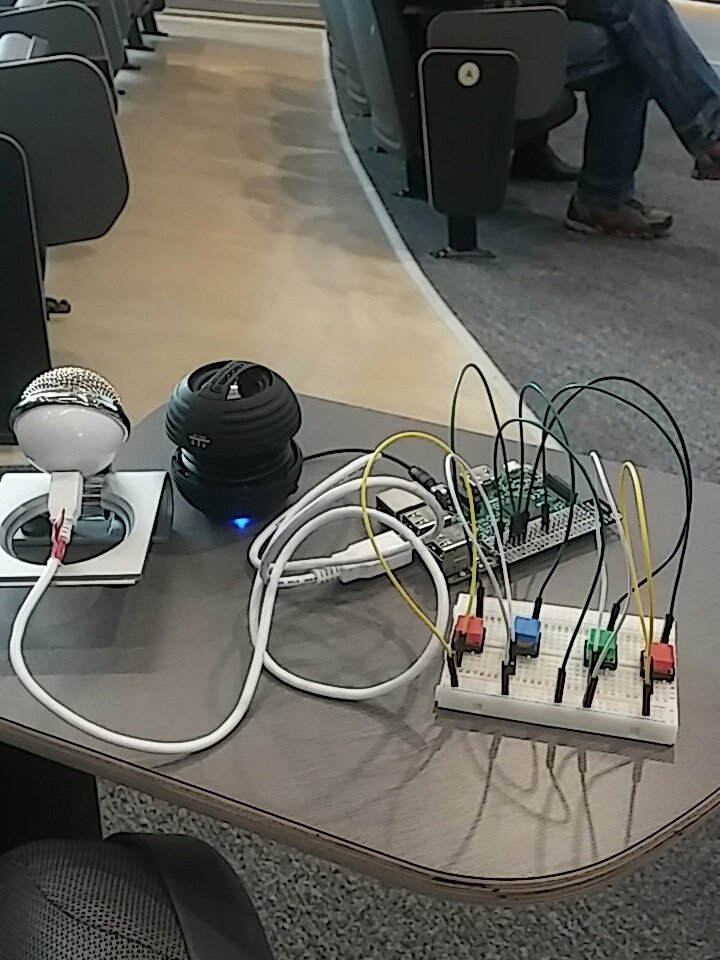 Now, I would love to say that it took us only two hours to complete our project. And to some extent that is true, however, we took two hours to get the first two buttons working. Then we added a third button. Then we thought we had an awesome working system (and we cheered… maybe a bit loudly but there were cheers going on all around us). Then we hit a snag; we could get the buttons to work, but we couldn't get them to work without using the keyboard, and we wanted the entire system to operate using only button triggers. In addition, we still hadn't solved how to record the audiobook – we simply didn't know the code in Python to write. Step in a fourteen year old. That's right – fourteen years old and he owns his own computer business (PCsForMe). This young man, pictured below, patiently taught two middle aged ladies the ins and outs of using a terminal command and a Python library to record.
I could go on and on about the help I received, the patience of my new found friend and project partner, Joy, and the threats that we made as we had to move our "baby" project from one room to another and then anxiously await our presentation and our eventual "graduation" from the program.
If you have the chance, apply to attend a 2017 Picademy cohort. It's an incredible experience. It's a great chance for educators to refresh, to learn new things, to make connections, and to build and play. But thanks to BISD and the Raspberry Pi Foundation, this week, I got my just desserts in the form of a small pin and a certificate that declare I am one of 160 U.S. Raspberry Pi Certified Educators. (Oh and I became a hero to my two sons who were thrilled to learn I have a Raspberry Pi AND it comes with Minecraft!)
Latest posts by Lindsay Foster (see all)